May 30, 2007
I love old lookin' at old Harleys almost as much as I love lookin' at pretty women.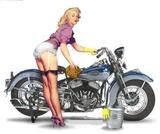 http://groups.msn.com/ToddsHarleyPix/harleygirls.msnw
I copied pics from this website to my hard drive and saved them all in a file. I then right clicked on my desktop, selected "Properties", selected the "Screen Saver" tab, then selected "My Pictures Slideshow" from the drop-down menu and selected the file I saved the "Harely Girl" pics to.
Between that and my Harley themed Firefox browser my computer has almost as many custom mods as my Road King! Now I just need to paint some flames on the case.